Win your share of over $100,000 in free slot play!
Posted on May 2, 2022 1:20 PM EDT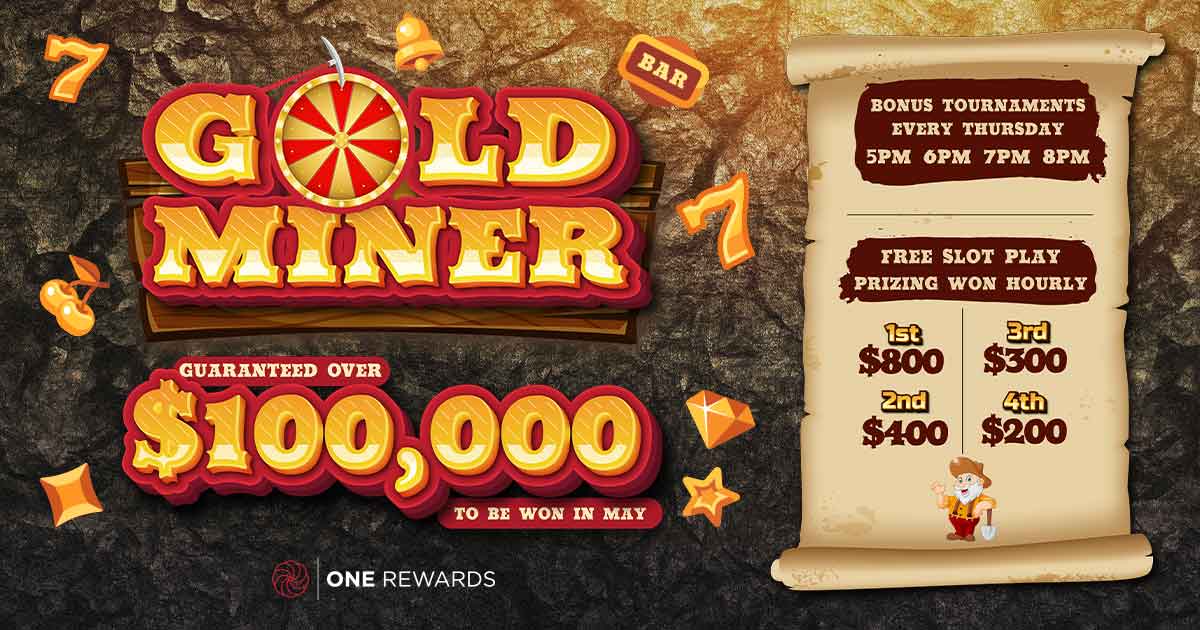 Join us every Thursday in May for fun and excitement!
Spring is here and the sun isn't the only thing that's gold this month! Hit the jackpot with our newest Gold Miner Bonus Tournaments. A total of four tournament periods will take place every Thursday in May where participants will get a chance to win a share of free slot play prizing. 
Prizing to be won per period
First place

: $800 free slot play

Second place:

$400 free slot play

Third place:

$300 free slot play

Fourth place:

$200 free slot play
How to participate
Insert your One Reward card into a slot machine during a Tournament Period
 Play $100 (bets made with free play are not considered) and watch the slot tournament meter fill up
When the wager requirement has been met, the Gold Miner: Bonus Slot Tournament will automatically launch on the screen
To play the Bonus Slot Tournament, press the SPIN button on the screen.  If you choose to continue playing your base game, the Bonus Slot Tournament reels will automatically spin as you play
As you spin the Bonus Slot Tournament reels, you will earn points based on the Gold Miner pay table.  Note that the Gold Miner pay table has no cash value and only adds points to your Bonus Slot Tournament Score
Once the allotted number of spins have been played, your score will accumulate, and a leader board will display.  This is an active leaderboard and will not be final until the Tournament Period ends each hour, as indicated in the above chart
The top 5 winners each hour will receive Free Play prizing ranging from $200 - $800
You can participate up to 5 times per Tournament Period.  Tournament period entries are determined by the number of times you meet the wager requirement.  Scores are not cumulative and only your top score each hour will be counted as your final score.  Free Play is automatically deposited into the winner's One Reward account immediately following the Tournament Period.
Don't have a One Rewards card? Visit Guest Services to sign up for free!
1Qualify up to five times a session. Must be an eligible One Rewards member. No purchase necessary. All prizing will be issued as free slot play and will be automatically loaded into the winner's One Rewards account. Visit Guest Services or onetoronto.com/goldminer-terms for official rules and regulations.
Thursday, May 5, 2022
5PM | 6PM | 7PM | 8PM
Thursday, May 12, 2022
5PM | 6PM | 7PM | 8PM
Thursday, May 19, 2022
5PM | 6PM | 7PM | 8PM
Thursday, May 26, 2022
5PM | 6PM | 7PM | 8PM
Check Out Similar Promotions